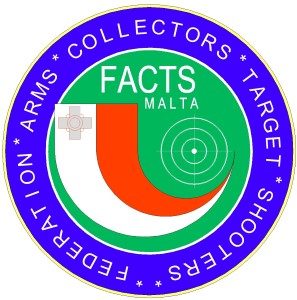 FACTS OFFICIALLY RECOGNISED BY SPORTMALTA
We are pleased to announce that the FEDERATION OF ARMS COLLECTORS & TARGET SHOOTERS – FACTS has now been officially recognised by SportMalta as a Sports Federation in terms of Article 35 of the Sports Act 2002, making it the foremost representative of our community in Malta. It is currently the only sport shooting federation so recognised and its registration number is SM/F007.
AMACS is a founder member of FACTS alongside AACTS. Being two associations which are already recognised by SportMalta, we undertook this project together with the aim of creating an official body which truly represents the common interests of the entire community of arms collectors and target shooters.
Other shooting organisation which are recognised by SportMalta as 'clubs' may join any of the two recognised Associations so as to form part of the Federation.
The FACTS logo was designed by AMACS member Cedrik Dalli.
Watch out for more good news in the very near future!