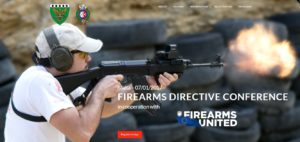 Conference on the impact of the EU Firearms Directive revision
CONFERENCE ON THE IMPACT OF THE EU FIREARMS DIRECTIVE REVISIONS, 7 JANUARY 2017
The conference was organised by AACTS and AMACS in collaboration with FIREARMS UNITED. AMACS Vice President Vincent Borg presented the guest speakers who spoke in this order:
Hon. Carmelo Abela, Minister for Home Affairs and National Security
Tomasz Stepien, President FIREARMS UNITED
Sasja Barentsen, Legislative Director IPSC & President IPSC Netherlands
Stephen A. Petroni, Chairman FESAC & President AMACS
Jean Luc Addor, Vice President PROTELL & Deputy of the Swiss Council
Jean-Karl Soler, Secretary AMACS
Mikko Pesonen, FIREARMS UNITED Finland
Clive Brockdorff, Regional Director IPSC Malta
Video messages from three MEPs were also screened:
Roberta Metsola, EPP group
Miriam Dalli, S&D group
Dita Charanzova, ALDE group
The meeting was attended by over three hundred owners and users of legal firearms as well as officials representing authorities such Sportsmalta and the MTA, and others representing local NGOs such as FKNK, KSU, DASA, SAFE, HRGM, Malta Command and Battlefront.
A  display of rare and historic firearms was also set up to showcase typical pieces that have been saved from destruction, thanks to the unyielding efforts of FESAC and the MEPs that stood up in defense of collectors.
The first speaker was the Minister for Home Affairs and National Security Carmelo Abela, who shared his opinion about striking a balance between liberties and security.
FIREARMS UNITED's president Tomasz Stepién delivered an update on the status of the Firearms Directive revision and its impact on stakeholders were the current text to be adopted by the European Parliament in March.
The Conference continued with video messaged from MEPs Miriam Dalli and Roberta Metsola. You may follow these by clicking on the links below:
IPSC Legislative Director Sasja Barentsen informed his audience of the potential impact on dynamic shooting disciplines and explained how the "transient state" of semi-automatic firearms, which change category according the capacity of magazine kept with them, would be a nightmare to enforce, leading to serious problems for owners and the authorities.
The first part was concluded by FESAC Chairman Stephen Petroni who compared the "institutionalised vandalism" of historical heritage proposed by the Commission to the destruction of the ancient temples of Palmyra by ISIS. He stated that the commission shall never ever be forgiven for having the audacity of proposing the destruction of historical firearms. These words were quoted by two Maltese newspapers, The Malta Independent and Malta Today. (click on the links for the full report).
The first speaker in the second half of the conference was Jean-Luc Addor, a member of the Swiss National Council, who stated that the Swiss will not comply. Swiss citizens are not ready to compromise on their liberties and if necessary, there will a referendum about it.
Jean Karl Soler quoted scientific evidence proving that there is no correlation between legal firearm ownership and crime. On the contrary it appears that legal ownership actually deters crime.
FU Finland representative Mikko Pesonnen, gave a nordic insight into the Firearms Directive revisions and described how Finnish organizations have reacted to it.
Clive Brockdorff, Regional Director of IPSC Malta explained the sensible Maltese firearms laws, in which the focus is on the person rather than the firearm.
Concluding, Vincent Borg stated that evidence points out that there are people who may be trusted with any firearm and others who cannot be trusted with anything. Truer words are seldom spoken.
The Maltese organisations are committed to prevent a revised Directive from having a negative impact on national legislation that is functioning well and which was created in collaboration with collectors and sport shooters.
The conference was web-streamed live and you may follow it on these two recordings:
The message ensuing from this conference has been heard loud and clear:
"United we stand – divided we fall!"