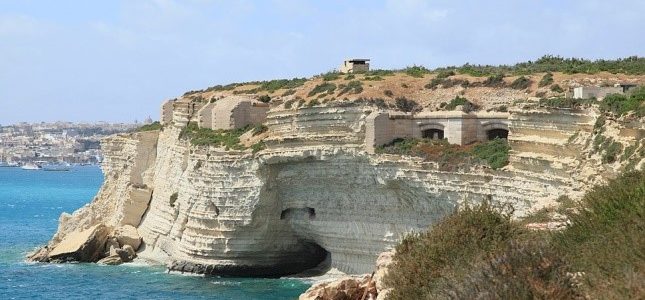 AMACS Visit to Fort Delimara on Sunday, 4th February 2018
AMACS Sunday Historical Visits
Visit No: 2  Fort Delimara
The AMACS Historical team has managed to convince Heritage  Malta to give us access to Fort Delimara on the morning of Sunday 4th February (at 9am).
There will be a historical tour of the facility – which is normally not open to the public. We will provide members with a short talk about the fort's history and it will be followed by a walk around the outside and down into the inner tunnels of the fort itself.
Note that this fort is in a sorry state and is not clean inside. It is strongly advised that attendees wear sturdy shoes and bring a good flashlight. Hard hats are not compulsory but it may be a good idea to bring one just in case. As such, it must be said that the visit, although interesting, will be at your own risk.
Visits to this site are rare so we encourage interested members to take advantage of this opportunity at the very least to get up close and personal with the last remaining  RML 12.5 inch guns, which are still in place within the fort!
Since Heritage Malta are going to charge us a fee to open the facility for our visit, there will be a small charge of EUR 10.00 per person for the visit. This is purely to cover our costs. To do this, we need the support of at least 20 members. Payment is to be made in advance at the AMACS office.
Please contact Franco at:  info@amacs-malta.org  to book your place on what could turn out to be a very interesting morning!